Shock Dancer Alum – Chantel
---
November 19, 2020 11:37 pm
By James, East Coast Correspondent
Kevin Maloney
SpokaneShock.com
She has heard it all before: "Dance is NOT a sport," "Anybody can do that," "It's not a real sport – how hard can it be?"
Former Spokane Shock Dancer and current Dallas Mavs Dancer, Chantel begs to differ.
"Whether people think so or not, dancing is a sport," Chantel explained. "When most people think of dancing I think they picture 'club style dancing.' We simply learn a routine, perform it at a game, and that's it. They don't realize the preparation and training dancers go through behind the scenes before a performance or competition."
As a member of the Dallas Mavs Dancers, at least 15 hours/week (not including games) are dedicated to being a part one of the NBA's elite Dance Teams. From boot camp training days, to practice, and practice outside of practice, all of it is expected to be a part of a professional dance team that makes it "basically a part-time job," as Chantel explained.
Armed with a Marketing Degree from Washington State University, Chantel also has a full time job working for a firm that specializes in financial planning for athletes entering the world of professional sports. While a schedule like this might be overwhelming for some, it is normal for most dance team veterans.
With 12 years of dance experience under her belt, Chantel is living the life that she once dreamed of.
"I have always wanted to dance in Dallas whether it was for the Cowboys or the Mavericks, they have always been my favorite professional teams," Chantel explained. "I already had a friend from college living down here (in Dallas) and she really encouraged me to move down with her. I started taking (prep) classes to get a feel for the teams and decide which one I would enjoy the most."
While it might be a life that she has dreamed of, the audition process could be a nightmare for the timid. The first round of the Mavericks' tryout was an open call that yielded nearly 300 applicants.
"It was a great experience but it was definetly nerve-racking," Chantel said. "You compare yourself to everyone else, but confidence is key."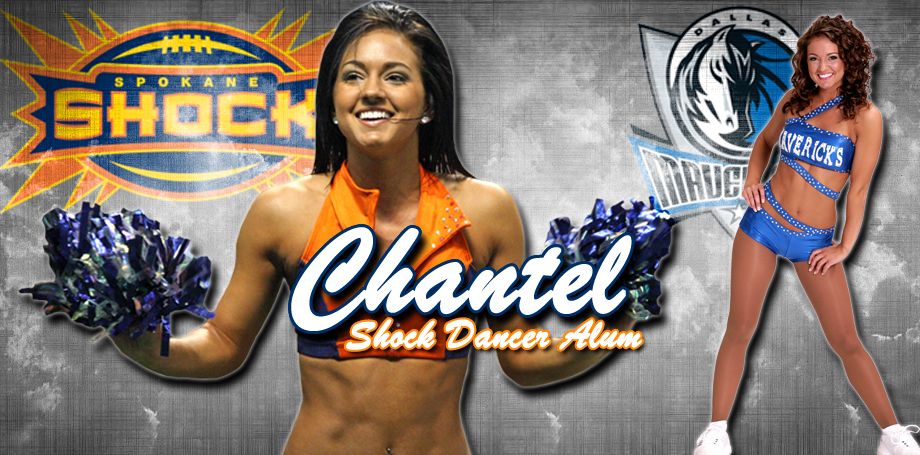 The 300 applicants were paired down with three preliminary rounds: prelims, semi-finals and finals. From there, 50 finalists were selected for a week-long training camp that included work-outs with three songs worth of choreography each night. After each piece of choreography is taught, the finalists had to perform it on the spot for Dallas' Dance Team Director, Mallory Mills. At the end of the camp, 20 of the finalists made the team's final roster, including only five rookies.
But, the competition doesn't end there. Of the 20 dancers, only 10-12 actually get to perform during the games. The night before each game, girls have to "audition" for each routine that will be performed at the next game. As a two-year veteran of the Shock Dance Team, this type of competition is nothing new for Chantel.
"I know that Maggie (Kazemba, Shock Dance Team Director) really made it a point for us to come to practice knowing the routines," Chantel said. "A lot of times she would upload routines online and it was our responsibility to learn the routines and come to practice knowing the material."
While Chantel and the rest of her teammates have not been able to perform at a game, yet, they have still kept a busy schedule since the team was announced in July.
In addition to making regular appearances throughout the Dallas community, the Mavs Dancers were also flown to Barbados to shoot its annual calendar.
"Within less than a month of making the team, our Coach announced that we were all being flown to Barbados for a four-day photo shoot," Chantel explained. This exotic location was chosen as a reward for helping the Mavericks win the 2011 NBA Championship. "It was hard work but it was worth it. We had to be up at 2:30-3 AM in order to be at our location site by sunrise."
(The 12-month calendar is available for pre-sale now on mavs.com by clicking here.)
During this short time, Chantel has quickly developed a tight bond with her teammates.
"Everyone has been really helpful and all of the girls are super nice," Chantel said. "We always try to go out and do stuff together. In the beginning, it was a little tough because there are 15 veterans with just five rookies. The rookies did stick together. Now that we have gone to Barbados and have had quite a few practices and appearances, we are starting to blend in as a team."
For Chantel, her experience on the Shock Dance Team helped her get where she is today and helped make her dreams a reality.
"I think that dancing on the Shock team was a huge stepping stone to dance in the NBA now. Maggie is really tough on those girls. She knows what it takes to be a good dancer and a performer. Even her choreography is similar to what we do now. It's very high-energy and she is very precise with her routines," Chantel said. "The Shock is definetly a great stepping stone to get to the next level."